Kalendarz Wydarzeń- kwiecień 2010

2 kwietnia 2010 r. godz. 9:00

Zapraszamy całą Polonię do udziału w Publicznej Drodze Krzyżowej która w Wielki Piątek rano przejdzie ulicami Winnipegu. Początek w Kościele św. Ducha o godzinie 9:00.

Droga jest przygotowana przez grupy działające przy Parafii, między innymi młodzież, Ligę Katolickich Kobiet i Grupę Teatralną. Przy każdej stacji i podczas Drogi odgrywana będzie Męka naszego Pana. Zapraszamy do licznego udziału!

Jezus jest Drogą, Prawdą i Życiem!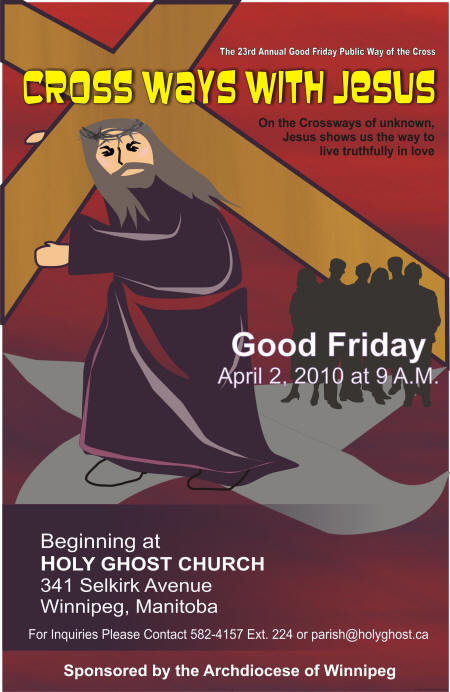 11 kwietnia 2010 r. godz. 19:30 ODWOŁANO

Polskie Towarzystwo Muzealne Ogniwo
Event: Cepelia Presentation
Date and Time: Sunday April 11 from 4 to 6 PM
Place: Ogniwo Museum
1417 Main Street, Winnipeg

Silver collection at the door

March 21, 2010
For Immediate Release:
The Folklorama Polish Pavilion sells folk art, but did you ever wonder where it comes from and how it got here?
As part of the Ogniwo Museum's 25th Anniversary Celebrations, Dr. Daniel Stone will answer this question at the Ogniwo Polish Museum on April 11. Come and learn about the early history of Cepelia, Poland's major folk art producer and seller since 1949. Find out about its role in creating folk art, its struggles with the Stalinist bureaucracy, and the sad experience of its first president at the hands of the Stalinist police.
This presentation will take place at the Ogniwo Museum on:
Sunday April 11, 4 – 6 PM
There will be a silver collection at the door.
Dr. Daniel Stone is well-known to residents of Manitoba as a Professor of History at the University of Winnipeg for close to 40 years. He is currently Professor Emeritus. He is also the author of numerous articles and books regarding Polish history. He has been awarded several honours, including the Golden Cross by the Polish Combatants Association of Canada and the Oskar Halecki Polish History Award for the best book published in 2001-2002, awarded by the Polish Institute of Arts and Sciences in America.
For further information, please call 586-5070 or e-mail info@polishmuseum.com.
16 kwietnia 2010 r. godz. 18:30
Towarzystwo Przyjaciół Polskiej Kultury i Sztuki ,,Zachęta" zaprasza Polonię na wieczór poetycko-muzyczny, który odbędzie się w dniu 16 kwietnia 2010 r. o godz. 18:30 w Muzeum Ogniwo, przy 1417 Main St. W programie będą prezentowane utwory poetów zamieszkałych i tworzących w Winnipegu. Wieczór jest dedykowany ofiarom Katynia. Wstęp wolny.
18 kwietnia 2010 r. godz. 11:00
Kongres Polonii Kanadyjskiej
Okreg Manitoba




KOMUNIKAT PRASOWY

Canadian Polish Congress
Manitoba Branch




PRESS RELEASE

DO NATYCHMIASTOWEJ DYSTRYBUCJI

Winnipeg, Manitoba – 14 kwietnia 2009 r.
Kongres Polonii Kanadyjskiej Okręg Manitoba zawiadamia, że msza żałobna za dusze ofiar katastrofy lotniczej pod Smoleńskiem odbędzie się w niedzielę 18 kwietnia o godz. 11.00 w kościele św. Ducha, 341 Selkirk Avenue w Winnipegu.
Msza będzie celebrowana przez arcybiskupa archydiecezji Winnipeg Jego Ekscelencję Jamesa Weisgerbera. Po mszy odbędzie się ceremonia złożenia wieńca przy pomniku Stowarzyszenia Polskich Kombatantów Koło Numer 13 na cmentarzu św. Ducha. ###

FOR IMMEDIATE RELEASE

Winnipeg, Manitoba – April 14, 2009
The Canadian Polish Congress-Manitoba Branch announces that a Memorial Mass for the souls of the Smolensk aircraft crash victims will be celebrated Sunday, April 18, 2010, at 11:00 a.m. at the Holy Ghost Church, 341 Selkirk Avenue in Winnipeg.

The Mass will be presided by His Grace Archbishop James Weisgerber, Archdiocese of Winnipeg. Following the liturgy at church, there will be a ceremonial laying of a wreath at the Polish Combatants Association-Branch #13 memorial monument at the Holy Ghost Cemetery, 4387 Main Street (north of Perimeter Hwy). ###
Contact Info:
Canadian Polish Congress, Manitoba Branch
768 Mountain Avenue, Winnipeg, Manitoba, R2W 1L7
Email: kongres@shaw.ca Phone: 204-589-7878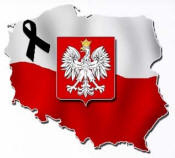 17, 20, 23 kwietnia 2010 r.

Opera's Favourite Bad Girl is Back and Sparks will Fly
MANITOBA OPERA PRESENTS
CARMEN
APRIL 17, 20, 23, 2010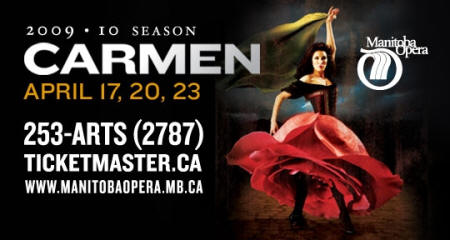 Manitoba Opera closes the 2009/10 season with the world's most popular opera, Carmen, for
three shows only at the Centennial Concert Hall, Saturday, April 17 (8 pm), Tuesday, April 20
(7 pm), and Friday, April 23 (8 pm).
This sensational story filled with seduction, jealousy, and deceit will be sung in French with
English translations projected above the stage. The fiery fatal attraction tells the tale of the
sensuous cigarette girl who tempts fate when she spurns her lover for a celebrated matador.
With one unforgettable melody after another, composer Georges Bizet's music pulsates with the
spirit of Spain and features many opera favourites including the famous "Habanera," the
sensuous rhythms of the "Seguidilla," and the rousing Toreador Song.
Tickets are on sale now. Go to www.ticketmaster.ca; call (204) 253-(ARTS) 2787; or visit a
Ticketmaster outlet. Casual ticket prices: $35 to $125 (adults); $35 to $112 (seniors/students);
children 12 and under – 50% off the adult casual price. Prices include GST, the MCCH $1.50
ticket surcharge, and the Ticketmaster $3.50 service charge.


THE ARTISTS

Considered to be one of this generation's most riveting Carmen's, mezzo-soprano Kirstin
Chávez makes her Manitoba Opera debut in the signature role. Baritone Luis Ledesma also
makes his Manitoba Opera debut as the toreador Escamillo. Canadian lyric tenor David
Pomeroy will sing the role of Don José and Winnipeg soprano Monica Huisman, who has
replaced the previously cast Frédérique Vézina, will sing the role of Micaëla.
Other cast members include Benjamin Covey (Moràles/Dancairo); Alain Coulombe (Zuniga);
Catherine Daniel (Mercedes); Keith Klassen (El Remendado); and Arianna Sovernigo
(Frasquita).
2. Manitoba Opera presents Carmen, April 2010
Carmen will be conducted by Tyrone Paterson and will also feature the Manitoba Opera
Chorus (Tadeusz Biernacki, chorus director), as well as a children's chorus (Carolyn Boyes,
chorus director) and the Winnipeg Symphony Orchestra. The production will be directed by
Winnipeg's Rob Herriot.
Lighting design is by Bill Williams. The set, designed by Allen Charles Klein, is provided by
Austin Lyric Opera (Texas) and the costumes are from Malabar Ltd. (Toronto).

THE STORY

The soldier Don José falls in love with Carmen, the Gypsy temptress and allows her to escape as
he takes her to prison. In order to be with her, José deserts his regiment, his sweetheart, and even
his dying mother and joins Carmen's band of smugglers. As his life crumbles, Carmen begins to
tire of him, and her wandering glance turns to the swaggering bullfighter. Her fate is sealed when
José, wracked with jealousy, realizes she will never be his.
For more details on the production, artists, synopsis, etc., go to www.manitobaopera.mb.ca
/////////////////

2009/10 SPONSORS, FUNDERS & PARTNERS
SEASON FUNDERS:
Manitoba Arts Council, Canada Council for the Arts,
Winnipeg Arts Council, The Winnipeg Foundation
SEASON SUPPORTERS: Richardson Foundation, BMO – Bank of Montreal
PRODUCTION & PERFORMANCE SPONSORS:
Great-West Life Assurance Co., SunLife Financial, TelPay, Scotiabank Group,
Winnipeg Free Press, McKim Cringan George, Delta Winnipeg, First Class Flowers,
Espace Musique 89.9 FM